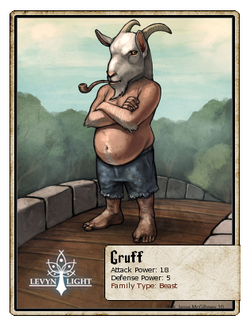 Who's that trip-trapping over Greenleaf Bridge? It's the Gruff, the earthy goat-man who oversees the local fishin' holes. The Gruff enjoys a good hoedown and there's no better place for a hoedown than scenic Green Leaf Bridge.
Unfortunately, the Tea Troll, who lives beneath the bridge, prefers quiet and candlelight. He's considered roaring at the Gruff, just to scare him away, but then he would be labeled an ungracious host...and there's no reason to be an ogre.
Location(s): Green Leaf Bridge
First Appearance: Chapter 2
Attack Power: 18
Defense Power: 5
Critical Chance: 4%
5% Chance of Headbutt (+100 Attack)
You've mad Gruff very angry! He charges and headbutts you square in the gut, sending you flying! Oof!
Loot:

Basic Energy

Goat Pipe
Gold:

10 - 24
Energy Preference: None
Badges:


1

10
100
250
Ad blocker interference detected!
Wikia is a free-to-use site that makes money from advertising. We have a modified experience for viewers using ad blockers

Wikia is not accessible if you've made further modifications. Remove the custom ad blocker rule(s) and the page will load as expected.