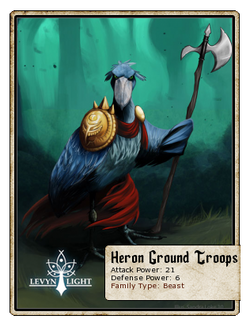 Captain Kestrall relies on the Heron Ground Troops to guard Grevel Nub Arbor's most secure locations. Working in combination with the Redtail Sentries patrolling the skies, the Herons are the keepers of keys, preventing any unauthorized travel through the Arbor. They also form random checkpoints around the city, rifling through citizens' bags to check for contraband. what constitutes contraband, you ask? Oh, money, shiny things, anything that might be tasty.
First Appearance: Chapter 3
Attack Power: 21
Defense Power: 6
Critical Chance: 0%
18% chance of Team Defense (+4 Defense)
Heron Ground Troops form a defensive barrier to keep you from escaping.
69% chance of Fly Away (+10 Defense vs Strong)
Heron Ground Troops fly into the air, out of reach of your weapon!
Loot:

Superior Energy

Small Shield

Whitestone Shard
Gold:

27 - 37
Energy Preference:
None
Notes: Small Shield is only dropped during the Nubs Are Not Grub! Quest.
Badges:


1

10
100
250
Ad blocker interference detected!
Wikia is a free-to-use site that makes money from advertising. We have a modified experience for viewers using ad blockers

Wikia is not accessible if you've made further modifications. Remove the custom ad blocker rule(s) and the page will load as expected.