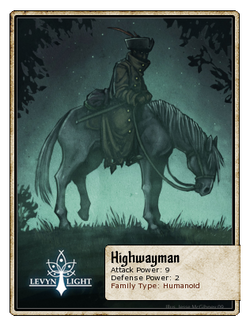 Though well-dressed, the clothing they own was never purchased. They would as soon swipe your gold as smile at you. Where one is found, others will be nearby, tread lightly or come prepared; they will put up a good fight.
Location(s): Mangled Forest, Forest Hideout, Kurston
First Appearance: Chapter 1
Attack Power: 9
Defense Power: 2
Critical Chance: 4%
15% chance of Charge (+3 Attack)
Highwayman's stallion charges right at you!
Loot:

Basic Energy

Goblin Captain Energy

Bandit Duster
Gold:

7 - 11
Energy Preference: None
Badges:


1

10
100
250
Ad blocker interference detected!
Wikia is a free-to-use site that makes money from advertising. We have a modified experience for viewers using ad blockers

Wikia is not accessible if you've made further modifications. Remove the custom ad blocker rule(s) and the page will load as expected.