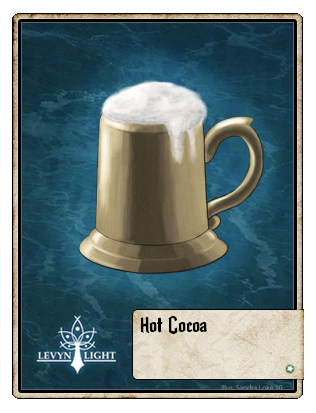 When the townfolks of Frostivas Isle get cold they like to warm up with a mug of cocoa. Their love for cocoa is so great they've created enchanted mugs that are always full.
Type: Support
Critical Chance: 2%
90% Chance of Relaxed (+10 Attack)
In trouble, you quickly drink your hot cocoa and, in the heat of battle, you are relaxed and able to think carefully.
87% Chance of Pain Relief (+9 Defense)
The hot cocoa allows you temporarily to forget the attacks made by ______.
50% Chance of Too Relaxed (-6 Attack)
You drink your hot cocoa, but unfortunately the powerful concoction does its job too well disabling you to make quick judgments and actions.
Required Level: 10
Sell Value: Unsaleable.
Obtained By:

Ad blocker interference detected!
Wikia is a free-to-use site that makes money from advertising. We have a modified experience for viewers using ad blockers

Wikia is not accessible if you've made further modifications. Remove the custom ad blocker rule(s) and the page will load as expected.