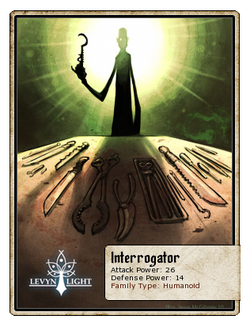 The interrogator is a master of conversation, but not any conversation that you'd ever want to have. Using a vicious set of tools, he intimidates, humiliates, and berates prisoners into telling him what Zeruul wants to know. Be sure to give him a good whach with whatever weapons you have handy-- he deserves it.
Location(s): Kestrall's Oubliette
First Appearance: Chapter 4
Attack Power: 26
Defense Power: 14
Critical Chance: 0%
70% Chance of Straightjacket (+2 Defense)
Interrogator loops a rope around your wrists, and soon has you tied up!
21% Chance of Thumbscrews (+3 Attack)
Interrogator squeezes your fingers in a painful vice.
Loot:

Wall Energy

Superior EnergyFile:Whitestone Shard small.png Whitestone Shard
Gold:

32 - 78
Energy Preference: First Floor Energy
Badges:


1

10
100
250
Ad blocker interference detected!
Wikia is a free-to-use site that makes money from advertising. We have a modified experience for viewers using ad blockers

Wikia is not accessible if you've made further modifications. Remove the custom ad blocker rule(s) and the page will load as expected.