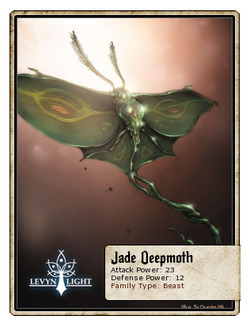 Unlike many underground creatures, who fear the light, Jade Deepmoth actually seeks light, resting on anything that glows. In the darkened halls of the Oubilette, this means that they seek out torches... or Seeker Stones. The Assimilator Spawn has summoned a swarm of these insects, whose hard wings can cut as easily as knives, to keep enemies from reaching its secret lair below the prison.
Location(s): Kestrall's Oubliette
First Appearance: Chapter 4
Attack Power: 23
Defense Power: 12
Critical Chance: 0%
23% Chance of Jade Tangle (+5 Attack)
Jade Deepmoth wraps its tail around your wrists, pulling you toward the swarm!
Loot:

Superior Energy

Whitestone Shard
Gold:

32 - 63
Energy Preference: None
Badges:


1

10
100
250
Ad blocker interference detected!
Wikia is a free-to-use site that makes money from advertising. We have a modified experience for viewers using ad blockers

Wikia is not accessible if you've made further modifications. Remove the custom ad blocker rule(s) and the page will load as expected.