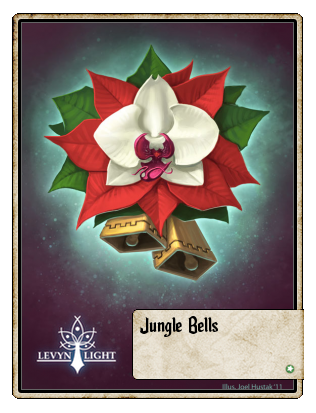 The merry sound of the Jungle Bells bring back memories of happier times-halls filled with laughter, joy, and festive jubilation. They remind you of a time before the Shadow...before you were a Seeker...except you can't remember before waking up in Esert Village, can you?
SPECIAL NOTE: The merriment of these Jungle Bells was always meant to be shared! They can only offer aid if you have three Seeker friends to join in the festive spirit!
Type: Support
Critical Chance: 11%
93% chance of Stuck In The Head (+4 Defense)
Your enemy can think of nothing else but Jungle Bells!
88% chance of Jungle All The Way! (+1 Attack)
Your enemy is lost in thoughts of a dark, pressing jungle!
83% chance of Jungle Bell Rock! (+2 Attack)
You shake your Jungle Bells to the beat and distract your enemy!
Required Level: 1
Sell Value: Unsaleable.
Obtained By: Reward after completing the Jungle Bells All the Way! Quest (during Christmas in July event)
Notes: You can't use this item if you don't have at least three friends who play LevynLight.
Ad blocker interference detected!
Wikia is a free-to-use site that makes money from advertising. We have a modified experience for viewers using ad blockers

Wikia is not accessible if you've made further modifications. Remove the custom ad blocker rule(s) and the page will load as expected.