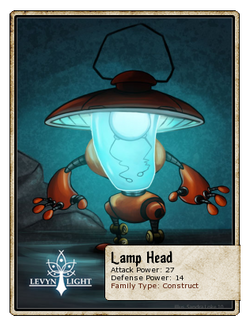 Originally designed by the old Technology faction, these glowing sentry bots have been reprogrammed to patrol the gloomy halls of Kestrall's Oubiliette, ligting the way for guards and exposing any unauthorised prisoner movements. If they suspect any disturbance, or they run into something that shouldn't be there, Lamp Heads fill the air with their distinctive alarm call: Beeeeeeeew!
Location(s): Kestrall's Oubliette
First Appearance: Chapter 4
Attack Power: 27
Defense Power: 14
Critical Chance: 0%
31% Chance of Alarm Call (+4 Attack)
Lamp Head calls others to its aid with its alarm call: Beeeeeew!
5% Chance of Light Blinding (+6 Defense)
Lamp Head flashes its light right in your eyes, momentarily blinding you.
Loot:

Wall Energy

Whitestone Shard
Gold:

44 - 67
Energy Preference: First Floor Energy
Badges:


1

10
100
250
Ad blocker interference detected!
Wikia is a free-to-use site that makes money from advertising. We have a modified experience for viewers using ad blockers

Wikia is not accessible if you've made further modifications. Remove the custom ad blocker rule(s) and the page will load as expected.