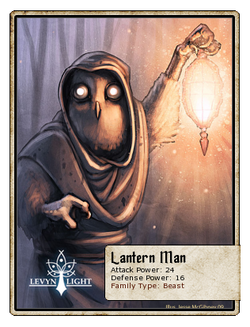 Eerie inhabitants of the twilight hours, Lantern men silently patrol the darkness, searching for wayward prisoners while the other guards sleep.
Location(s): Kestrall's Oubliette
First Appearance: Chapter 4
Attack Power: 24
Defense Power: 16
Critical Chance: 2%
52% Chance of Darkness (+2 Defense)
Lantern Man extinguishes his lantern, leaving you fumbling in the dark.
17% Chance of Brightness (+5 Attack)
Lantern Man's lantern glows brighter and brighter until it becomes painfully blinding.
Loot:

Superior Energy

Food Tin

Whitestone Shard
Gold:

12 - 34
Energy Preference: None
Badges:


1

10
100
250
Ad blocker interference detected!
Wikia is a free-to-use site that makes money from advertising. We have a modified experience for viewers using ad blockers

Wikia is not accessible if you've made further modifications. Remove the custom ad blocker rule(s) and the page will load as expected.