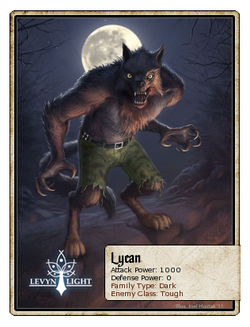 Fifty percent man, fifty percent wolf, and a hundred percent of vicious aggression, this creature has long lost control of, well, control. Stalking its prey late into the night, its bite spreads the curse of the Weres to any unfortunate soul unlucky enough to meet its jaws. Worse yet, the Lycan is always hungry for more.
Location(s): Ecorae, Esert Village, Eserton, Fontis Sapienta, New Feron
First Appearance: MythMonster Mash
Attack Power: 1000
Defense Power: 0
Family Type: Dark
Enemy Class: Tough
Critical Chance: 0%
10% chance of Silver! (-1000 Attack)
A silver bullet whistles through the air, striking the Lycan who lets out a chilling howl before falling to the ground!
Loot:
Silver Bullets
Gold:

250 - 400
Energy Preference:
Static Volt
in
Eserton
Notes: Link to Painting Video
Badges:


1

10
25
50
Ad blocker interference detected!
Wikia is a free-to-use site that makes money from advertising. We have a modified experience for viewers using ad blockers

Wikia is not accessible if you've made further modifications. Remove the custom ad blocker rule(s) and the page will load as expected.