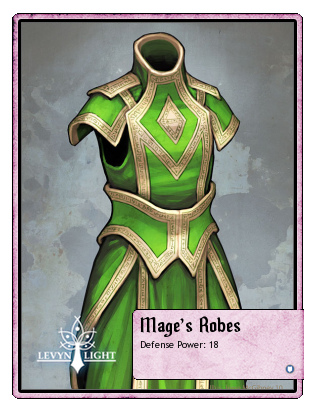 These robes, woven from the tail hair of five inter-dimensional beasts, protect the wearer by temporarily fading them out of existence at the point of impact. More protective than armor that simply absorbs the enemy's blows, Mage's Robes are an old standby for magical duelists everywhere. Be sure to brush the fabric regularly, though: when you're dealing with inter-dimensional hair cloth, lint balls can be deadly.
Type:
Armor
Defense Power: 18
Critical Chance: 5%
40% chance of Poof! (+1 Defense)
Your Mage's Robes turn you temporarily invisible!
25% chance of Solid Gas (+2 Defense)
You shift quickly between a solid and an ethereal state, rendering __________'s attacks useless.
Required Level: 30
Sell Value: Unsaleable but Tradable and Giveable
Obtained By:

Ad blocker interference detected!
Wikia is a free-to-use site that makes money from advertising. We have a modified experience for viewers using ad blockers

Wikia is not accessible if you've made further modifications. Remove the custom ad blocker rule(s) and the page will load as expected.