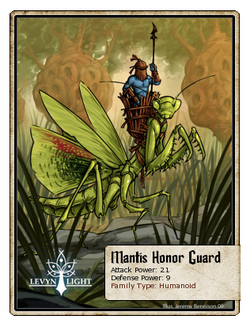 Before the occupation, Princess Malorra was never without her Mantis Honor Guard. Not only do the riders impress the populace with their grace and discipline, but the mantises also serve as a warning to any potential threats to the throne. Because the mantises are bred with extra-sharp spines on their front arms, larger creatures, such as nasty, noisy birds, also avoid angering them.
First Appearance: Chapter 3
Attack Power: 21
Defense Power: 9
Critical Chance: 4%
11% Chance of Mantis Training (+4 Attack)
Mantis Honor Guard uses his exceedingly well trained mount to get an advantage against you
5% Chance of Guardian (+10 Defense)
Mantis Honor Guard strikes a defensive pose.
Loot:

Superior Energy

Whitestone Shard
Gold:

30 - 35
Energy Preference: None
Badges:


1

10
100
250
Ad blocker interference detected!
Wikia is a free-to-use site that makes money from advertising. We have a modified experience for viewers using ad blockers

Wikia is not accessible if you've made further modifications. Remove the custom ad blocker rule(s) and the page will load as expected.