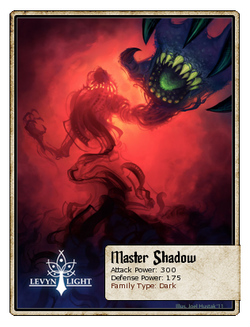 Created at the birth of the Levyn Tree, the Master Shadow's sole goal is to create fear, hatred, and doubt in the Mythlands. Having possessed Zeruul for centuries, the Shadow is now loose to find and target its next victim.
First Appearance: Chapter 11
Attack Power: 300
Defense Power: 175
Critical Chance: 2%
27% chance of Consuming Shadow (+20 Attack)
The Master Shadow is drawn by your life force!
12% chance of Disorienting Darkness (+5 Defense)
You lose your grasp on reality!
Energy Preference: None
Badges:


1

10
100
250
Ad blocker interference detected!
Wikia is a free-to-use site that makes money from advertising. We have a modified experience for viewers using ad blockers

Wikia is not accessible if you've made further modifications. Remove the custom ad blocker rule(s) and the page will load as expected.