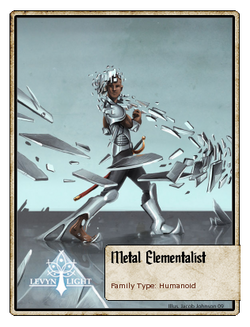 Master of all ore, the Metal Elementalist draws the power of metal from deep within the earth with only the strength of his razor-sharp mind. He is never without his shifting suit of quicksilver armor and his trusty sword, which he can morph into any shape. Fight him from a distance, because if you challenge him to a duel you might just find your weapon caught in the middle of his changing blade.
First Appearance: Chapter 1
Attack Power: Variable
Defense Power: Variable
Critical Chance: 0%
Traits: None
Loot:

Baton of Metal
Gold:

5 - 10
Energy Preference:
None
Notes: This character was no longer available to fight since the release of Chapter 3. It was reintroduced with the Christmas in July Event as a permanent addition.
Badges: Seekers do not earn badges for this character (more details).
Ad blocker interference detected!
Wikia is a free-to-use site that makes money from advertising. We have a modified experience for viewers using ad blockers

Wikia is not accessible if you've made further modifications. Remove the custom ad blocker rule(s) and the page will load as expected.