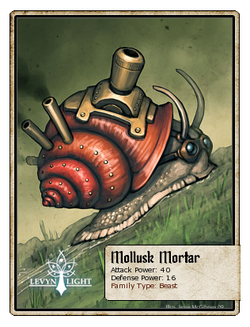 Seemingly harmless at first glance, these coiled shells contain a lot more than just a simple mobile home. These slug-horned howitzers work hard to protect the healing waters of Daphne Cove, and they're not afraid to blast anyone who gets in too deep. Mollusk mortars are most commonly found in the Cove waters, but New Feron scientists have spotted them in other inlets, coves and spring throughout the southern Mythlands.
First Appearance: Chapter 6
Attack Power: 40
Defense Power: 16
Critical Chance: 2%
30% Artillery (+8 Attack)
Mollusk Mortar fires his primary artillery at you!
50% Chance of Shields Up (+5 Defense)
Mollusk Mortar puts his shields up!
Energy Preference: None
Badges:


1

10
100
250
Ad blocker interference detected!
Wikia is a free-to-use site that makes money from advertising. We have a modified experience for viewers using ad blockers

Wikia is not accessible if you've made further modifications. Remove the custom ad blocker rule(s) and the page will load as expected.