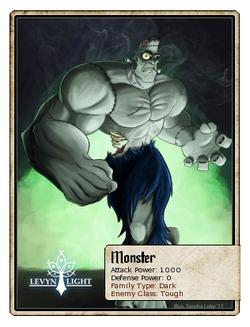 This monster was brought to life with gothic magics, lightening, and pieced-together corpses. The doctor who created such an atrocious creature fled long ago from the horror of it all. Several attempts were made by surrounding cities to tame the creature, even going so far as to name him "Frank." They must have gotten his name wrong however, because he had no interest in playing nice.
Location(s): Ecorae, Esert Village, Eserton, Fontis Sapienta, New Feron
First Appearance: MythMonster Mash
Attack Power: 1000
Defense Power: 0
Family Type: Dark
Enemy Class: Tough
Critical Chance: 0%
10% chance of Shocking! (-1000 Attack)
A random bolt of lightening shoots down from the sky and fatally strikes the Monster!
Loot:
Frank's Bolts
Gold:

250 - 400
Energy Preference:
Static Volt
in
Eserton
Alternative Version(s):
Patchwork Man (shared artwork)
Badges:


1

10
25
50
Ad blocker interference detected!
Wikia is a free-to-use site that makes money from advertising. We have a modified experience for viewers using ad blockers

Wikia is not accessible if you've made further modifications. Remove the custom ad blocker rule(s) and the page will load as expected.