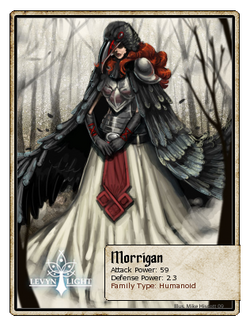 Gliding through the mist in the wee hours of the morning before a battle, the Morrigan is considered a warrior's death omen. She weaves her way through the trees with her eyes downcast, mourning the person who is about to die. The Morrigan, as high priestess to the crow, holds great power over warriors and battles. Legends tell of her felling entire armies with a single prophecy and blotting out the sun with the ink-black wings of her crow cloak.
First Appearance: Chapter 7
Attack Power: 59
Defense Power: 23
Critical Chance: 1%
8% chance of Dark Prophecy (+45 Attack)
Morrigan whispers unknowable secrets in your ear, foretelling your doom.
Loot: Beak Amulet Piece, Egg Amulet Piece, Feather Amulet Piece, Gadget, Talon Amulet Piece,Widget
Gold:

103 - 113
Energy Preference:
None
Notes:

In Irish mythology, The Morrigan is a legendary figure sometimes considered the goddess of battle, strife and fertility. She sometimes appears in the form of a crow, flying over warriors. [1]
Badges:

1

10

100
250