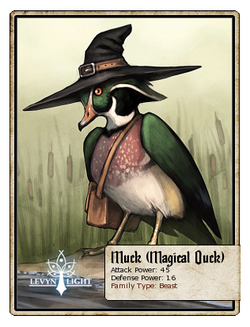 Mucks are the unfortunate result of a potion with too much eye of newt and not enough frog toes. Be wary with magical brews... one wrong measurement and the results could be fowl.
First Appearance: Chapter 6
Attack Power: 45
Defense Power: 16
Critical Chance: 4%
65% chance of Duck Spell (+9 Attack)
Muck quacks and you grows webbed feet and a bill.
50% chance of Cast and Feather (+10 Attack)
Muck stomps their webbed feet and you suddenly sprouts feathers.
Loot: Catalyst Crystal, Muck Down (During Without a Paddle), Stone of Summoning
Gold:

89 - 109
Energy Preference: None
Badges:


1

10
100
250
Ad blocker interference detected!
Wikia is a free-to-use site that makes money from advertising. We have a modified experience for viewers using ad blockers

Wikia is not accessible if you've made further modifications. Remove the custom ad blocker rule(s) and the page will load as expected.