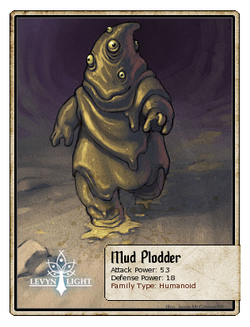 Mud Plodders form out of algae-choked pools and sulfurous mud springs, where they feed on the noxious swamp gasses that arise from decaying plant matter. Due to their diet, their aroma is less than ingratiating, like rotten potatoes mixed with drying gutter sludge. To make matters worse, Mud Plodders try to shove any intruders away from their food source when threatened. Victims report that their smell is actually viral, infecting the clothes and skin of others close by.
First Appearance: Chapter 7
Attack Power: 53
Defense Power: 18
Critical Chance: 1%
42% chance of Gross (+3 Defense)
You don't want to get any closer to Mud Plodder. He stinks.
65% chance of Shove (+5 Attack)
Mud Plodder pushes you into the reeking mud!
Loot: Catalyst Crystal, Stone of Summoning
Gold:

101 - 112
Energy Preference: None
Badges:


1

10
100
250
Ad blocker interference detected!
Wikia is a free-to-use site that makes money from advertising. We have a modified experience for viewers using ad blockers

Wikia is not accessible if you've made further modifications. Remove the custom ad blocker rule(s) and the page will load as expected.