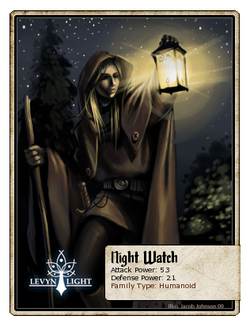 In a wilderness filled with predators, the Night Watch provides the people of the Northern Outpost with a perimeter of light and security. Residents rely on the watch to keep an eye on herd movements, deter thieves and aid any travelers who happen to arrive at night. Although they recruit every type of people, from farmhands to soliders, members of the watch generally share a love for nature and solitude.
First Appearance: Chapter 7
Attack Power: 53
Defense Power: 21
Critical Chance: 3%
21% chance of Alarm (+6 Defense)
Night Watch spots you lurking in the darkness and sounds the alarm!
Loot: Gadget, Widget
Gold:

98 - 106
Energy Preference: None
Badges:


1

10
100
250
Ad blocker interference detected!
Wikia is a free-to-use site that makes money from advertising. We have a modified experience for viewers using ad blockers

Wikia is not accessible if you've made further modifications. Remove the custom ad blocker rule(s) and the page will load as expected.