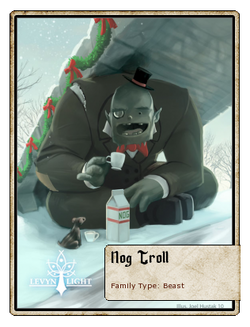 The nog troll, not uncommon to the underside of bridges where holiday carolers often pass, is a very strange creature indeed. One would expect such a large and muscular creature to ruin every holiday outing with his clumsy and destructive behavior, but instead you will find he likes to brew hot egg nog and share it with passing revelers. Don't ignore the nog troll's bridge as you pass by-- he'll be terribly vexed if you don't try a snowman cookie.
Location(s): All
First Appearance: Jolly Holidays
Attack Power: Variable
Defense Power: Variable
Critical Chance: 0%
55% chance of Misguided Recipe (+3 Attack)
The Nog Troll offers you a cup of hot chocolate, but something seems off about it... the taste overwhelms you for a couple of seconds.
70% chance of Crunchy Cookie (+1 Attack)
One of the Nog Troll's cookies is too hard, and hurts your teeth... but he's so happy to see you eat it that you have to finish it anyway.
Loot: Peppermint Potion, Chocolate (during Nog And Fog quest)
Gold:

50 - 90
Energy Preference:
None
Alternative Version(s):

Tea Troll
Notes: Larger Version
Badges: Seekers do not earn badges for this character (more details).
Ad blocker interference detected!
Wikia is a free-to-use site that makes money from advertising. We have a modified experience for viewers using ad blockers

Wikia is not accessible if you've made further modifications. Remove the custom ad blocker rule(s) and the page will load as expected.