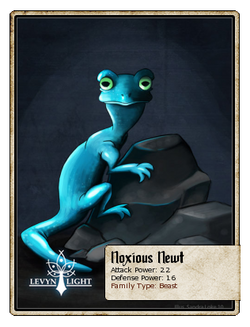 These brightly colored Newts are the only creature (minus the bugs) which can stand the constant dark and damp of Kestrall's Oubliette. Noxious Newts feed on the molds and fungus that grow on the bricks in the dungeon,using them to produce a slimy skin coating that is extremely poisonous to most creatures. Guards squash them on sight, but the prisoners leave them be, fearing that no one will take the time to heal them if they are poisoned.
Location(s): Kestrall's Oubliette
First Appearance: Chapter 4
Attack Power: 22
Defense Power: 16
Critical Chance: 0%
33% Chance of Slime Spit (+5 Attack)
Noxious Newt spits toxic slime at you!
Loot:

Superior Energy

Newt Slime
Gold:

23 - 54
Energy Preference: None
Badges:


1

10
100
250
Ad blocker interference detected!
Wikia is a free-to-use site that makes money from advertising. We have a modified experience for viewers using ad blockers

Wikia is not accessible if you've made further modifications. Remove the custom ad blocker rule(s) and the page will load as expected.