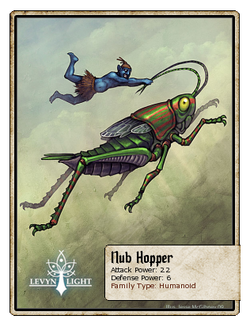 The Nub Hoppers are Princess Malorra's most daring soldiers, willing to risk life and limb on the backs of unpredictable grasshoppers in order to reach strategic targets that elude flying Nubs. Nub Hoppers possess a sense of adventure, and daring, that often wins them battles against terrible odds.
First Appearance: Chapter 3
Attack Power: 22
Defense Power: 6
Critical Chance: 3%
15% chance of Collision (+3 Attack)
Nub Hopper inadvertently hurls themselves at you, ricocheting off them with a quiet "plip!"
7% chance of Bucking Hopper (-8 Defense)
Nub Hopper's mount bucks them off into the air! They spend the rest of the encounter searching for a replacement hopper.
Loot:

Superior Energy

Emeralite Shard

Whitestone Shard
Gold:

26 - 36
Energy Preference: None
Badges:


1

10
100
250
Ad blocker interference detected!
Wikia is a free-to-use site that makes money from advertising. We have a modified experience for viewers using ad blockers

Wikia is not accessible if you've made further modifications. Remove the custom ad blocker rule(s) and the page will load as expected.