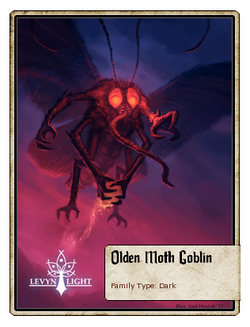 The Olden Moth Goblin lives on the volcanic sulfur surrounding Mt. Prometheus and can often be found with a handful in tow. Don't let its diet fool you, though. This insect is incredibly territorial and terribly vicious to any trespassers lest a precedent be set where strangers feel they can raid sulfur sources. An Olden Moth Goblin feels no conflict of conscious as it tears its victims limb from limb.
Location(s): Mt. Prometheus, Aznor's Clearing
First Appearance: Chapter 10, LevynLight 1st Anniversary
Attack Power: Variable
Defense Power: Variable
Critical Chance: 0%
76% chance of OMG! (+2 Attack)
OMOGMGOMOGMGOGOMGOMOG!!!THEY SWARM IN PACKS!!!
Loot: Sulfur, Wooden Chest during LevynLight's 1st Anniversary
Gold:

240 - 290
Energy Preference: None
Badges: Seekers do not earn badges for this character (more details).
Ad blocker interference detected!
Wikia is a free-to-use site that makes money from advertising. We have a modified experience for viewers using ad blockers

Wikia is not accessible if you've made further modifications. Remove the custom ad blocker rule(s) and the page will load as expected.