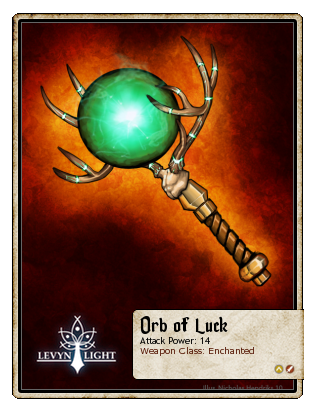 This orb has been repaired by Aznor and while it's not perfect, it's significant better than before. It contains the spirits of past Seekers who have fought the tyranny of Zeruul and aid you in battle. It's amazing what Aznor can do with a little super glue and tape!
Type:
Weapon
Attack Power: 14
| | | | | | |
| --- | --- | --- | --- | --- | --- |
| Mastery Level | 1 | 2 | 3 | 4 | 5 |
| Attack Power | 16 | 17 | 19 | 21 | 23 |
Critical Chance: 50%
70% chance of Spirit of Timing (+2 Attack)
Something seems to halt you for just half a second and make your next swing perfect!
50% chance of Spirit of Force (+3 Attack)
You feel strength build in your arms as the spirits lend their aid!
40% chance of Spirit of Strategy (+5 Attack)
Like a master strategist, you see all possible scenarios!
10% chance of Spirit of Luck (+8 Attack)
The stars align, the heavens open wide, and luck pours down like rain!
5% chance of Spirit of Defeat (-17 Attack)
Why didn't Aznor get rid of this one!!!
1% chance of Spirit of Victory (+10000 Attack)
Every Seeker's spirit from the past, present, and future guide your hand to almost certain victory
Required Level: 20
Sell Value: Unsaleable but Tradeable and Giveable.
Obtained By: Purchasing from Caravan Bazaar for 22000 Gold.

Forging in Caravan Bazaar in Aznor's Clearing

Components Required:
Ad blocker interference detected!
Wikia is a free-to-use site that makes money from advertising. We have a modified experience for viewers using ad blockers

Wikia is not accessible if you've made further modifications. Remove the custom ad blocker rule(s) and the page will load as expected.