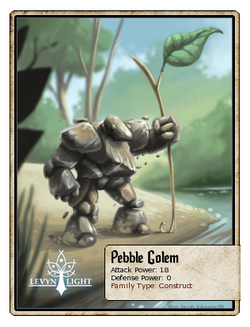 The Pebble Golem is formed by loose rock and gravel. It is Believed that the spirits created these beings by infusing them with their essence, using them to keep watch over the water as they slept.
First Appearance: Chapter 2
Attack Power: 18
Defense Power: 0
Critical Chance: 2%
10% Chance of Harden (+5 Defense)
Pebble Golem hardens its defenses!
15% Chance of Stone Toss (+9 Attack)
Pebble Golem hurls small rocks towards you.
Loot:

Emeralite Shard

Whitestone Shard
Gold:

14 - 18
Energy Preference: None
Badges:


1

10
100
250
Ad blocker interference detected!
Wikia is a free-to-use site that makes money from advertising. We have a modified experience for viewers using ad blockers

Wikia is not accessible if you've made further modifications. Remove the custom ad blocker rule(s) and the page will load as expected.