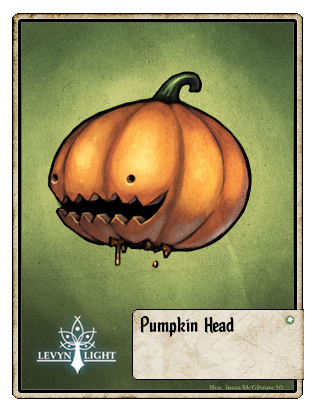 Scare away your enemies, country-style, with this spooky helmet made from a hollowed-out pumpkin.
Type: Support
Critical Chance: 0%
74% chance of Pulpy Armour (+1 Defense)
The pulpy rind of your Pumpking Head provides some protection!
13% chance of Spooky Smile (+2 Attack)
The unsettling grin given by your Pumpkin Head puts (enemy) on edge!
32% chance of Lantern (-1 Defense)
Your Pumpkin Head is highly flammable!
Required Level: 4
Sell Value: 175
Obtained By:  
Ad blocker interference detected!
Wikia is a free-to-use site that makes money from advertising. We have a modified experience for viewers using ad blockers

Wikia is not accessible if you've made further modifications. Remove the custom ad blocker rule(s) and the page will load as expected.