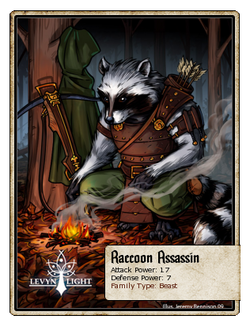 Raccoons are no strangers to crime. From the time they're born, they learn to steal to eat. The Order of Raccoon Assassins, by comparison, considers itself to be slightly more honorable than your average bandit. They only use their arsenal of tricks to serve the Rihn family, and use the Forest Rangers' protection to avoid the evils of trash bin robbery. Their work isn't pleasant, but raccoons always seem to get stuck doing things that other creatures won't touch.
First Appearance: Chapter 3
Attack Power: 17
Defense Power: 7
Critical Chance: 5%
12% chance of One Shot (+4 Attack)
With a snap of his crossbow, Raccoon Assassin bulls-eyes you!
63% chance of Blend (+2 Defense)
Raccoon Assassin disappears into the surrounding foliage, ready to ambush!
Energy Preference: Woodsman Energy
Badges:


1

10
100
250
Ad blocker interference detected!
Wikia is a free-to-use site that makes money from advertising. We have a modified experience for viewers using ad blockers

Wikia is not accessible if you've made further modifications. Remove the custom ad blocker rule(s) and the page will load as expected.