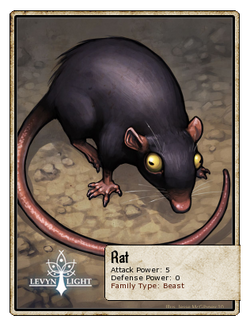 These little guys infest everywhere. Barrels in alleyways, rafters at the inn, sewers, haystacks, fields, trees, caves, caverns, dungeons, bed rolls, backpacks, socks. EVERYWHERE! They become quite a nuisance to a distinguished adventurer trying to make a name for themselves. "Rat Slayer" isn't the most prestigious of titles, after all.
Location(s): Kestrall's Oubliette
First Appearance: Chapter 4
Attack Power: 5
Defense Power: 0
Critical Chance: 1%
4% Chance of Rat Wave (+5000 Attack)
You hear a small rumbling in the distance that soon rises to a thunderous cacophony of ear-piercing squeaks and squeals! From out of every nook, crack and crevice, rivers of swarming rats come pouring forth! Soon the whole area is bathed in a sea of vermin! You disappear under waves of fur and whiskers!
Loot:

Superior Energy

Wall Energy

Green Mold

Emeralite Shard
Gold:

0
Energy Preference: None
Badges:


1

10
100
250
Ad blocker interference detected!
Wikia is a free-to-use site that makes money from advertising. We have a modified experience for viewers using ad blockers

Wikia is not accessible if you've made further modifications. Remove the custom ad blocker rule(s) and the page will load as expected.