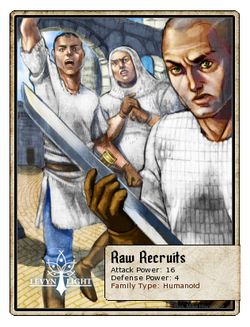 These young hopefuls are eager to join the ranks of the Ivory Knights, but they'll need to train for a while before fighting in the rebellion. What the Recruits lack in skill, they make up for in enthusiasm and teamwork, so don't underestimate their combined power.
First Appearance: Chapter 2
Attack Power: 16
Defense Power: 4
Critical Chance: 0%
23% Chance of Triple Team (+4 Attack)
The Raw Recruits manage to surround you, pin you down, and rough you up a bit.
58% Chance of Defensive Circle (+4 Defense)
The raw recruits form a defensive circle, pointing their weapons outward.
Energy Preference: None
Badges:


1

10
100
250
Ad blocker interference detected!
Wikia is a free-to-use site that makes money from advertising. We have a modified experience for viewers using ad blockers

Wikia is not accessible if you've made further modifications. Remove the custom ad blocker rule(s) and the page will load as expected.