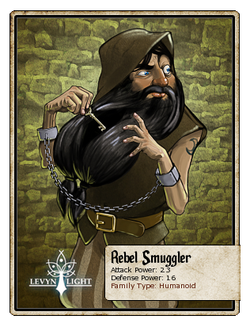 This man is one of the many Rebel Smugglers imprisoned in the Oubliette for funneling supplies from Zeruul's armies to the resistance. Even now, he may have a few items in his beard that the guards don't know about. While he's been in jail, he's made a comfortable trade in forbidden items-sweets, medicines, small weapons- and amassed a small pile of gold coins which he hides behind a loose brick in his cell.
Location(s): Kestrall's Oubliette
First Appearance: Chapter 4
Attack Power: 23
Defense Power: 16
Critical Chance: 0%
11% Chance of Big Mug o' Beard! (+4 Attack)
Rebel Smuggler whips his ample beard into your face. Ouch, it's scratchy!
60% Chance of Dust Screen (+3 Defense)
Rebel Smuggler pulls a pile of dust out of his pocket and blows it into your eyes!
Loot:

Smuggler's Beard
Gold:

24 - 45
Energy Preference: None
Badges:


1

10
100
250
Ad blocker interference detected!
Wikia is a free-to-use site that makes money from advertising. We have a modified experience for viewers using ad blockers

Wikia is not accessible if you've made further modifications. Remove the custom ad blocker rule(s) and the page will load as expected.