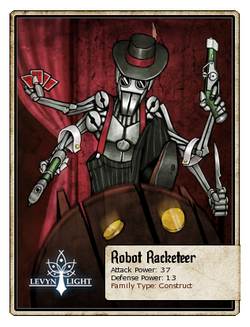 The Grease Can Gang have more hands than a game of poker, and every single one of them is in a different criminal pie. Originally designed to clean beds, they escaped when a short circuit caused them to go haywire. By the time the factory issued a recall, the Grease Can Gang were too busy running scams to come back to folding old bed linens. Most of them lost their conscience long ago, as they tend to fall out after excessive rust damage.
First Appearance: Chapter 5
Attack Power: 37
Defense Power: 13
Critical Chance: 3%
90% Chance of Security Charm (+10 Attack vs Enchanted)
Robot Racketeer is secured from all enchantment by its master!
65% Chance of Three-Armed Defense (+4 Attack)
Robot Racketeer shoots two guns at you, while using another aim to slash you with a knife!
Loot:
Gadget

Widget

Whitestone Shard
Gold:

32 - 54
Energy Preference: None
Badges:


1

10
100
250
Ad blocker interference detected!
Wikia is a free-to-use site that makes money from advertising. We have a modified experience for viewers using ad blockers

Wikia is not accessible if you've made further modifications. Remove the custom ad blocker rule(s) and the page will load as expected.