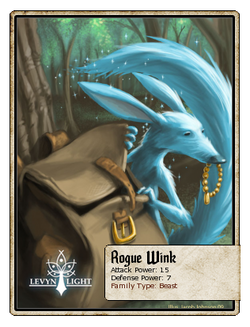 Winks are nimble and clever little creatures that use a touch of magic to enact their mischief. Because they use a crude form of concealment spell, Winks are capable of teleportation and extremely fast movement.
Location(s): Green Leaf Bridge
First Appearance: Chapter 2
Attack Power: 15
Defense Power: 7
Critical Chance: 50%
14% Chance of Evasion (+8 Defense)
Rogue Wink quickly evades.
13% Chance of Teleportation (+7 Attack)
Rogue Wink vanishes and appears behind you, catching you off guard.
32% Chance of Meld (+5 Attack)
Rogue Wink mirrors your movements exactly... It's very confusing.
Loot:

Copper Ring
Gold:

18 - 26
Energy Preference:
None
Alternative Version(s):
Rogue Wink Companion (support)
Badges:


1

10
100
250
Ad blocker interference detected!
Wikia is a free-to-use site that makes money from advertising. We have a modified experience for viewers using ad blockers

Wikia is not accessible if you've made further modifications. Remove the custom ad blocker rule(s) and the page will load as expected.