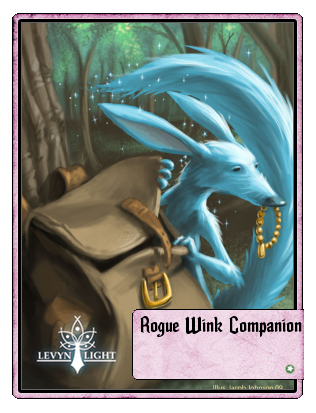 This clever and mischievous creature has two loves: You and gold! Using its ability to teleport and its fascination with all things shiny, this little critter is only too happy to lend you a helping hand when you need it and bring you valuable trinkets it finds!
Location(s): None
Type: Support
Critical Chance: 7%
84% chance of Charmed Bark (+12 Attack)
Rogue Wink growls low in its throat before releasing a charmed bark that knocks your enemy off their feet!
75% chance of Time Wink (+7 Defense)
Rogue Wink blinks out of time and space to avoid a crushing blow, taking you along for the ride!
33% chance of Sparklies! (+33% Gold)
The Rogue Wink sees some spare gold on your enemy and winks in and out of space to snag it for you!
Required Level: 35
Sell Value: Unsaleable but Tradeable and Giveable.
Obtained By: Purchasable from the Premium Shop for 99 Seeker Silver from September 8 - October 7, 2011.
Notes: See: Rogue Wink for the original character.
Ad blocker interference detected!
Wikia is a free-to-use site that makes money from advertising. We have a modified experience for viewers using ad blockers

Wikia is not accessible if you've made further modifications. Remove the custom ad blocker rule(s) and the page will load as expected.