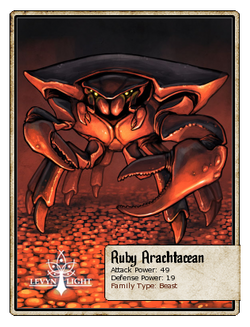 The Ruby Arachtacean patrols the perimeter of the Citrine Heart Vine's inner sanctum, using its powerful pincers to make sure that no one reaches the center of the Grotto. Despite its size, the Arachtacean is lightning quick, using its long legs to scuttle up behind travelers with nothing but a faint clickin strength aren't enough to send explorers running the other way, it also has a poisonous bite that, if not treated, is fatal.
Location(s): Citrine Heart Grotto
First Appearance: Chapter 6
Attack Power: 49
Defense Power: 19
Critical Chance: 4%
50% chance of Claw Crush (+5 Attack)
Ruby Arachtacean squeezes you between its claws!
20% chance of Fire Bite (+10 Attack)
Ruby Arachtacean bites you, sending a jolt of burning pain down your arm. You'd better take care of this quickly!
70% chance of Clicking Retreat (+4 Defense)
Ruby Arachtacean scuttles away from you on its long legs!
Familiar's Seal (+10 Defense vs Precise)
The Citrine Heart Vine has cast a protective seal over its familiars, blocking any precise aim!
Loot: Catalyst Crystal, Ruby Rose during High Magister Marcos (Quest), Stone of Summoning
Gold:

92 - 106
Energy Preference: None
Badges:


1

10
100
250
Ad blocker interference detected!
Wikia is a free-to-use site that makes money from advertising. We have a modified experience for viewers using ad blockers

Wikia is not accessible if you've made further modifications. Remove the custom ad blocker rule(s) and the page will load as expected.