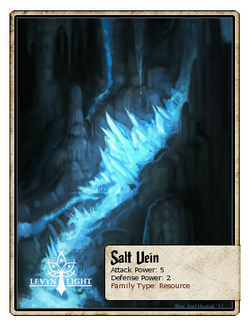 The Salt Veins cut through the rock of the mines. The salt crystals are beautiful to behold as they sparkle in the light. However, they made way for silent, clear, odorless, toxic gasses to seep through the clefts in the rock. A person can lose their strength and mind with only one small breath. The only antidote is rumored to be the sap of the Levyn.
Location(s): The Salt Mines, Aznor's Clearing
First Appearance: Chapter 9, Aznor First Arrival
Attack Power: 5
Defense Power: 2
Critical Chance: 0%
12% chance of Toxic Gasses (+3 Attack)
A burst of toxic fumes makes you dizzy!
7% chance of Sharp Crystals (+2 Defense)
The crystals of salt draw first blood and it stings!
Loot:

Ionized Salt
Gold:

22 - 33
Energy Preference:
None
Alternative Version(s):

Unobtainium Vein (repaint)
Badges:


1

10
100
250
Ad blocker interference detected!
Wikia is a free-to-use site that makes money from advertising. We have a modified experience for viewers using ad blockers

Wikia is not accessible if you've made further modifications. Remove the custom ad blocker rule(s) and the page will load as expected.