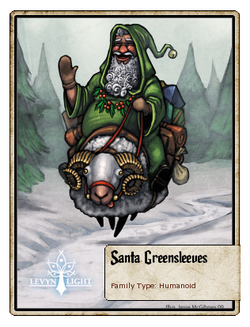 Santa Greensleeves traverses the countryside on Christmas Eve riding his trusty big-horn sheep, Snowy, giving presents made from items he's recycled in his workshop to all good little boys and girls. If a child has done their chores, shown respect to the forest and separated glass from paper all year long, then Santa welcomes them with a laugh and a hug. If not... Snowy may head-butt them into a snow bank.
First Appearance: Jolly Holidays
Attack Power: Variable
Defense Power: Variable
Critical Chance: 7%
25% chance of Ram-ifications (+2 Attack)
You forgot to separate your recycling this year! Snowy head-butts you, knocking you sprawling with a heavy 'thud'.
Loot:
Pine Needles

Green Gift Box
Gold:

13 - 34
Energy Preference:
None
Notes: *Larger Version
Badges:
Seekers do not earn badges for this character (
more details
).
Ad blocker interference detected!
Wikia is a free-to-use site that makes money from advertising. We have a modified experience for viewers using ad blockers

Wikia is not accessible if you've made further modifications. Remove the custom ad blocker rule(s) and the page will load as expected.