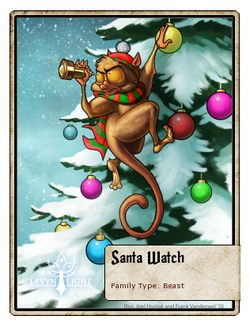 From the first snowfall until the end of the feast of giving, the evergreens surrounding every town crawl with these tiny primates, whose excellent vision allows them to watch the sky for any sign of the Santas. The Santa Watch also receive any lists that come in by bird, although, senders should be warned that the birds sometimes end up as holiday goodies.
First Appearance: Jolly Holidays
Attack Power: Variable
Defense Power: Variable
Critical Chance: 0%
60% chance of Look Over There! (+2 Attack)
The Santa Watch points to the sky, and you look, allowing it to scurry away up its tree.
40% chance of Turkey Snooze (+3 Defense)
Santa Watch is busy digesting a large bird, and so it has little time or energy left to deal with you.
Loot:

Green Gift Box
Energy Preference:
None
Alternative Version(s):

Watchful Tarsier
Notes: Larger Version
Badges: Seekers do not earn badges for this character (more details).
Ad blocker interference detected!
Wikia is a free-to-use site that makes money from advertising. We have a modified experience for viewers using ad blockers

Wikia is not accessible if you've made further modifications. Remove the custom ad blocker rule(s) and the page will load as expected.