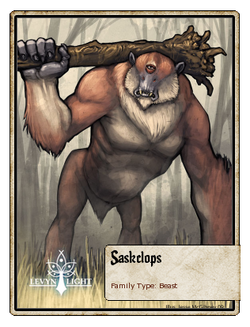 These rare and elusive primates wander the northern woodlands in search of berries and small animals to eat. Although normally shy and docile, they will fly into an unrelenting rage if someone comments on their abnormally large feet.
Location(s): All
First Appearance: Jolly Holidays
Attack Power: Variable
Defense Power: Variable
Critical Chance: 2%
17% chance of Bludgeon (+10 Attack)
Saskclops clocks you with a meaty fist.
5% chance of Depth Perception (-19 Defense)
Saskclops has no depth perception with its single eye, and stomps right over you!
Energy Preference:
None
Notes: The name "Saskclops" is a combination of the terms Sasquatch and Cyclops.
Badges: Seekers do not earn badges for this character (more details).
Ad blocker interference detected!
Wikia is a free-to-use site that makes money from advertising. We have a modified experience for viewers using ad blockers

Wikia is not accessible if you've made further modifications. Remove the custom ad blocker rule(s) and the page will load as expected.