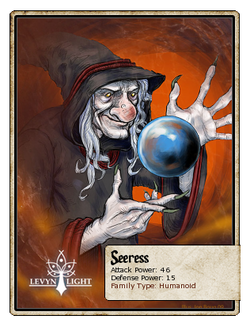 With her feet planted solidly between the worlds of nature and magic, the Seeress draws her power from the spirits of the land.
Seeresses are adepts of the healing arts and can use any herb to its best advantage. They make their living by foreseeing the future, but beware: any fortune told by a Seeress will be totally truthful, for good or bad.
First Appearance: Chapter 6
Attack Power: 46
Defense Power: 15
Critical Chance: 4%
42% Chance of Fortune (+5 Attack)
Seeress uses her talent of foresight to sway the outcome of the encounter.
36% Chance of Healing Herbs (+4 Defense)
Seeress sprinkles strange dried leaves on herself, relieving her injuries.
7% Chance of Hex (+7 Attack)
Seeress uses her potent magic to transform you into a newt. Don't worry, you'll get better.
Loot: Magic Ring (During Feuding Followers) , Catalyst Crystal, Stone of Summoning
Gold:

95 - 110
Energy Preference: None
Badges:


1

10
100
250
Ad blocker interference detected!
Wikia is a free-to-use site that makes money from advertising. We have a modified experience for viewers using ad blockers

Wikia is not accessible if you've made further modifications. Remove the custom ad blocker rule(s) and the page will load as expected.