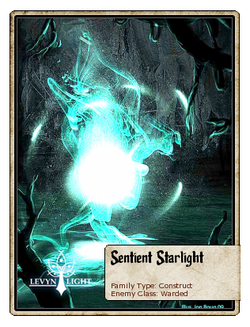 This scintillating miasma of incandescent plasma would be spectacular atop the Great Tree. Having just fallen from the sky, it is frightened by its unusual surroundings and by the minions of the Shadow that have been attacking it. You'll have to be careful as it is untrustworthy of everyone and it doesn't burn any less hot than it did before it fell.
First Appearance: 20'Levyn Season's Greetings
Attack Power: Variable
Defense Power: Variable
Family Type: Construct
Enemy Class: Warded
Critical Chance: 10%
60% Chance of HOT HOT HOT! (+6 Defense)
The star burns so hot that it's hard to get close enough to strike.
40% Chance of Light as Air (-5 Attack)
An errant gust of wind nudges the Sentient Starlight as it swings at you, knocking its attack off course.
Millions of Degrees (+10000 Defense vs Ice)
Stars withstand the cold of deep space.Your weapon is nothing compared to that.
Loot:

Red Gift Box
Sentient Spark

Space Pebble
Gold:

400 - 500 (1500 during It's Alive! quest)
Energy Preference:

Fallen Star Energy
Alternative Version(s):

Wisp (original version)
Badges: Seekers do not earn badges for this character (more details).
Ad blocker interference detected!
Wikia is a free-to-use site that makes money from advertising. We have a modified experience for viewers using ad blockers

Wikia is not accessible if you've made further modifications. Remove the custom ad blocker rule(s) and the page will load as expected.