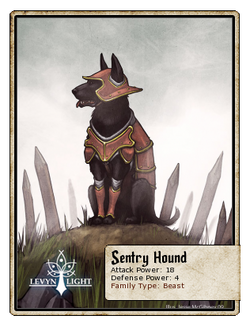 Attentive and highly disciplined, the Sentry Hounds of the Nature Faction are commonly used to watch over important areas or persons. Even the most skilled interlopers would be hard-pressed to bypass these dogs' keen senses.
First Appearance: Chapter 3
Attack Power: 18
Defense Power: 4
Critical Chance: 3%
55% chance of Guard Duty (+4 Defense)
Sentry Hound is always on guard!
44% chance of Takedown (+3 Attack)
Sentry Hound pulls you to the ground and pins them!
2% chance of Distraction (-20 Attack)
Sentry Hound spots a squirrel and runs off to chase it!
Loot:

Rawhide Strips

Whitestone Shard
Gold:

20 - 29
Energy Preference: None
Badges:


1

10
100
250
Ad blocker interference detected!
Wikia is a free-to-use site that makes money from advertising. We have a modified experience for viewers using ad blockers

Wikia is not accessible if you've made further modifications. Remove the custom ad blocker rule(s) and the page will load as expected.