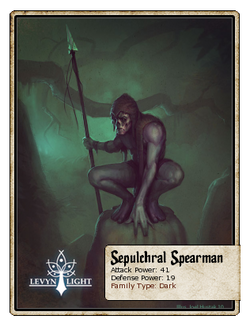 Wherever the Chenivore goes, trampling towns and gobbling down villagers, hordes of Sepuchral Spearmen follow. The Spearmen guard the Chenivore, and its handlers, from attack, while they wreak destruction and havoc on any settlements nearby. Because of the Spearmen's unpredictable nature, King Yorrick ony sends them to deal with places that are centers of heavy rebel activity.
First Appearance: Chapter 5
Attack Power: 41
Defense Power: 19
Critical Chance: 0%
60% Chance of Poison Spear (+4 Attack)
Sepulchral Spearman spins a poisoned spear tip at you, narrowly missing your nose!
70% Chance of Jagged Knife (+2 Attack)
Sepulchral Spearman pulls a knife out of their clothing and throws it at you.
Loot:

Whistle Energy

Widget
Gold:

80 - 105
Energy Preference:
Whistle Energy
Alternative Version(s):

Bone Spearman
Badges:


1

10
100
250
Ad blocker interference detected!
Wikia is a free-to-use site that makes money from advertising. We have a modified experience for viewers using ad blockers

Wikia is not accessible if you've made further modifications. Remove the custom ad blocker rule(s) and the page will load as expected.