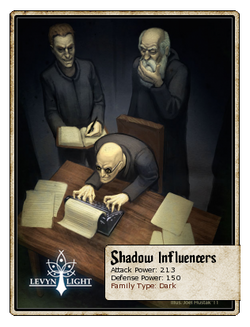 These propaganda writers drive Zeruul's military machine across the Mythlands. Their one purpose is to break morale by spreading rumors of doubt, deceit, and fear. They are heartless and cruel, taking a sick pleasure in breaking the opposition with pen rather than sword. Instead of glorying in what is true and right, they prefer to take joy in their skill of manipulation.
Location(s): Zeruul's Army Fortress
First Appearance: Chapter 11
Attack Power: 213
Defense Power: 150
Critical Chance: 3%
24% of Propaganda (+11 Attack)
The pen is mightier than the sword!
Energy Preference: Mist Energy
Badges:


1

10
100
250
Ad blocker interference detected!
Wikia is a free-to-use site that makes money from advertising. We have a modified experience for viewers using ad blockers

Wikia is not accessible if you've made further modifications. Remove the custom ad blocker rule(s) and the page will load as expected.