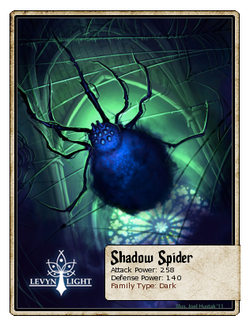 Zeruul's Shadow took blue sapphires and imbued them with the darkest of powers to guard every corner of Zeruul's Castle. Now this vicious creature is prepared to entangle any who dare enter its territory.
First Appearance: Chapter 11
Attack Power: 258
Defense Power: 140
Critical Chance: 1%
43% chance of Blue Face (+12 Defense)
Shadow Spider wraps its web around your neck, cutting off your air!
Loot:

Blue Sapphire
Gold:

225 - 275
Energy Preference: Silk Energy
Badges:


1

10

100
250