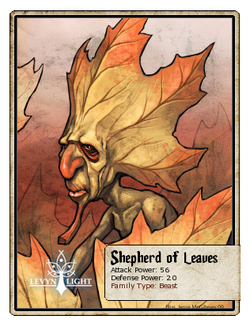 In the forest around the outpost, the leaves turn color almost overnight when fall rolls around. Most people assume that this color change is caused by the first frost of the year-- but the little people know better. The strict deadline for leaf color changes is met only through the tireless work of the Leaf Shepherds, who organize their fairy followers all year long to accomplish a seamless color change. Without their help, leaves would just turn brown and stay on the trees.
First Appearance: Chapter 7
Attack Power: 56
Defense Power: 20
Critical Chance: 3%
40% chance of Autumn Colours (+8 Attack)
As Shepherd of Leaves walks past, you turn a startling orangeish hue!
Loot:

Gadget

Widget
Gold:

89 - 105
Energy Preference: None
Badges:


1

10

100
250