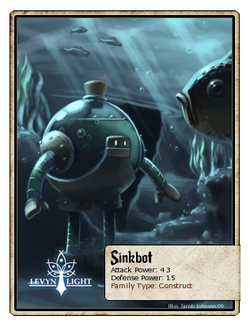 Designed for deep sea analysis, these bots used to roam sea beds collecting data for New Feron scientists. When the ever-observant Sinkbots realized that the missions they were being sent on served only Zeruul's spies, and not the interests of science, they engineered a mass disappearance in Daphne Cove. Their new city is a utopia beneath the waves, but the Sinkbots, fearing betrayal, are still hostile to outsiders.
First Appearance: Chapter 6
Attack Power: 43
Defense Power: 15
Critical Chance: 2%
12% Chance of Murky Cloud (+7 Defense)
Sinkbot kicks up a murky cloud of sediment making it nearly impossible to see.
25% Chance of Ballast Blast (+6 Attack)
Sinkbot blasts you with a spray of water from its ballast tank.
Loot:

Grungy Gadget
Gold:

82 - 107
Energy Preference: None
Badges:


1

10
100
250
Ad blocker interference detected!
Wikia is a free-to-use site that makes money from advertising. We have a modified experience for viewers using ad blockers

Wikia is not accessible if you've made further modifications. Remove the custom ad blocker rule(s) and the page will load as expected.