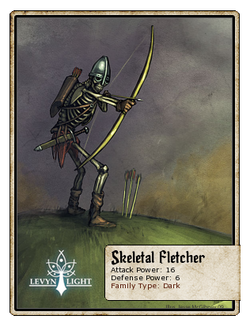 Once skilled archers in life, these bony marksmen continue to exhibit their talents even after death.
Oddly enough, the lack of eyes doesn't seem to effect their aim in the slightest.
First Appearance: Chapter 2
Attack Power: 16
Defense Power: 6
Critical Chance: 7%
25% Chance of Fire Arrow (+3 Attack)
Skeletal Fletcher unleashes a fiery arrow that streaks toward you!
20% Chance of Quick Nock (+2 Attack)
Skeletal Fletcher quickly nocks a second arrow and fires it at you!
6% Chance of Brittleness (-10 Defense)
You exploit the Skeletal Fletcher's fragile construction and knock a few bones loose.
Loot:

Grave Energy

Skull Cap

Superior Energy
Gold:

15 - 24
Energy Preference: None
Badges:


1

10
100
250
Ad blocker interference detected!
Wikia is a free-to-use site that makes money from advertising. We have a modified experience for viewers using ad blockers

Wikia is not accessible if you've made further modifications. Remove the custom ad blocker rule(s) and the page will load as expected.