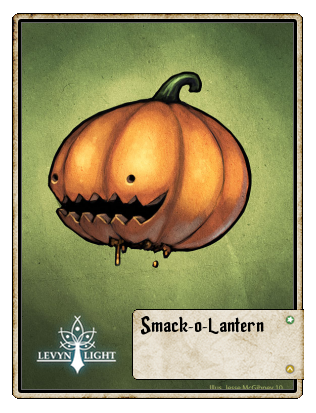 The grinning, eerie helmet shows that you take your spookiness very, very seriously. Whether you are trying to blend in at a meeting of ghouls, or just wanting to freak out the normals a little bit, the Smack-o-Lantern is the headgear for you.
Type: Support
Critical Chance: 0%
80% chance of Silly Hat Party (+5 Defense vs Dark)
______ ignores you, thinking that you are a possessed scarecrow of some kind, and goes about their business.
75% chance of Nonconformity (+6 Defense vs Humanoid)
__________ is a little disturbed by your unusual choice of headwear, and goes out of their way to avoid you.
50% chance of Creepy Dance (+3 Attack)
You do a stiff-legged dance toward __________, freaking them right out!
Required Level: ??
Sell Value: Unsellable
Obtained By: Completion of The Smack-o-Lantern quest in Treeline Keep.
Ad blocker interference detected!
Wikia is a free-to-use site that makes money from advertising. We have a modified experience for viewers using ad blockers

Wikia is not accessible if you've made further modifications. Remove the custom ad blocker rule(s) and the page will load as expected.