Ad blocker interference detected!
Wikia is a free-to-use site that makes money from advertising. We have a modified experience for viewers using ad blockers

Wikia is not accessible if you've made further modifications. Remove the custom ad blocker rule(s) and the page will load as expected.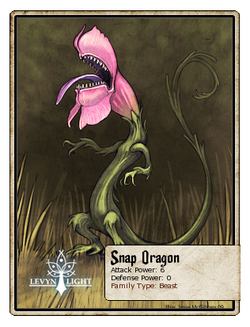 Don't be fooled by their pretty colours or alluring fragrance, Snap Dragons carry a mouthful of sharp teeth and aren't afraid to chomp at anything that gets too close!
Location(s): Mangled Forest, Hedge Valley
First Appearance: Chapter 1
Attack Power: 6
Defense Power: 0
Critical Chance: 4%
13% chance of Chomp (+4 Attack)
Snap Dragon chomps at you.
Loot: Basic Energy,Dragon Herb (during Shop Renovations Quest),Sturdy Branch in Hedge Valley
Gold:

4
Energy Preference: None
Badges:


1

10

100
250